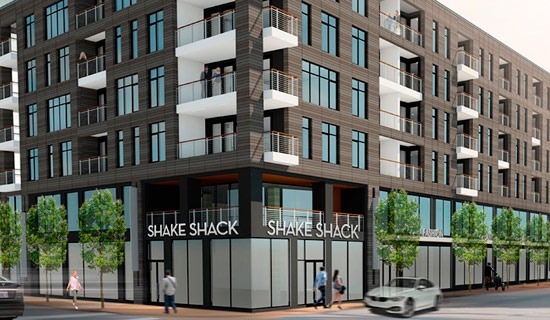 Located at the prominent corner of Euclid and West Pine Boulevards, The Koman Group purchased this site to develop as a a mixed-use entity comprised of 71 luxury rental apartment units, Class A commercial office as well as street level retail. This 71-unit boutique luxury apartment will feature a striking 25 ft ceiling in the lobby, is pet friendly, and is fully stocked with amenities including a state-of-the-art gym, spectacular entertaining spaces and underground parking and multiple floor plans.
The building will also be the home to the first St. Louis Shake Shack, created by award winning restaurateur Danny Meyer. In addition to this great amenity, the building will also be home to Kaldi's Coffee and 'ZZA Pizza + Salad.
Completion is expected in the early spring of 2018.
// ST. LOUIS, MISSOURI (CENTRAL WEST END)
// MULTIFAMILY/MIXED-USE
// 140,148 GSF, 72 UNITS, OFFICE: 12,601 RSF, RETAIL: 12,323 RSF
// COMPLETED BY AUGUST, 2017